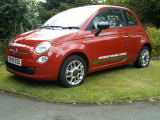 Prices
Beginners Offer- 10 Hours for £190.00.
Any Driver Offer- First 10 Hours for £200.00
After the Special Offers above; driving lessons cost £24. For a 10 hr bulk booking £230.00 . Remember the EXPRESS Driving School only use experienced, fully qualified and DVSA Approved driving instructors with five years experience.
If you simply need a few hours before your driving test, we can do any hours (with no special offers) for £25 an hour. Again remember that we only use local, fully qualified instructors with 5 years experience and we can get you started asap if required.
We can also do a starter 'check it out' lesson for £19 (1 hr) which you can put towards any of the offers above if you are satisfied with the service -no obligation.
We believe that we offer a value for money service when you consider that using a trainee driving instructor (a pink badge holder) could cost you more money in the long run i.e. in additional driving lessons through a lack of experience. Be Safer with the EXPRESS Driving School!
Please call saleem on 07932662283 for further information.
Or please email sal170404@hotmail.com
We are open 7 days a week including evenings (until 10pm) and all weekend.
Only Fully Qualified Driving Instructors with 5 Years Experience -Be Safer with express Driving School!
Local Experienced Instructors at Affordable Prices!